A trip to Nicaragua and Costa Rica, taking a break for diving, and Adrienne for adventures in Costa Rica.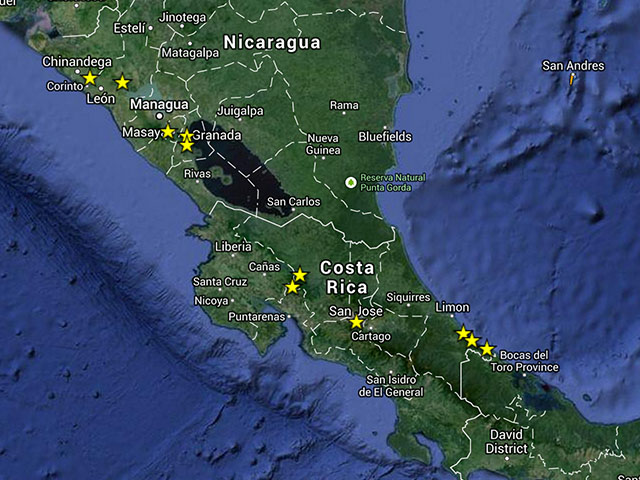 Full Screen Map
I started the trip with a week in Nicaragua, visiting Granada and León, and doing a bunch of volcano hiking, kayaking on Lake Nicaragua, and wandering around colonial towns. I paid a visit to the Flor de Caña rum distillery. Then it was off to meet with the diving crew for Cocos Island.
After the diving adventures, Adrienne joined me in San Jose, and we went on a trip around Costa Rica. Adrienne wanted to see all of the animals, and we did a pretty good job, finding wild coati and the trademark frog of Costa Rica near Arenal. Adrienne caught a glimpse of the quetzal at the Monteverde Cloud forest, and we both saw lots of jewel-like hummingbirds and tarantulas in the area. From San Jose, we rented a car to drive out to the Pacific Coast, where we visited the sloth sanctuary, went snorkeling and kayaking in the Caribbean, and saw monkeys and eyelash vipers on a hike.